The building
The Stringos Mansion, where the Old and Rare Collections of the Foundation's Historical Librar is housed, was purchased and inhabited by Georgios Stringos in 1917.
Georgios Stringos was a man with diverse activities, businessman, industrialist, banker, ship owner and politician. A visionary, with social sensitivity, "[…] a man of general education, world-traveled, tasteful and artistic", one of the greatest art collectors of the 20th century, he left his mark on Piraeus and beyond.
The Stringos Mansion was inhabited by the family until 1941 and in its salons it has welcomed great politicians as well as great persons of Letters and the Arts, such as Pavlos Nirvanas, Nikos Kavvadias, Yannis Tsarouhis. It was commandeered by the Germans during the Occupation and was used as an Officers' Club, while after the war it housed the Officers' Club of the Hellenic Royal Navy. In the mid-1950s it was bought by the French Embassy and became the branch of the French Institute of Piraeus. In 2006 it was bought and completely renovated by the Laskaridis family, while since 2009 it is housing the most special part of the Foundation's Historical Library.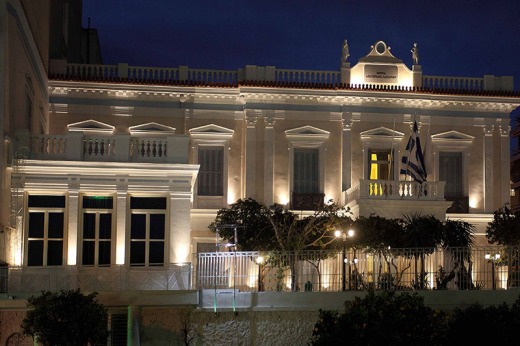 Services & Exhibitions
Reading Room
Maritime Collection – The Nelson Collection Exhibition
"Faith and Art. Selected Icons of the Aimilios Velimezis Collection" Exhibition 
Contact
Tel: +30 216 9003700
Email: info@laskaridisfoundation.org
Address
2nd Merarchias 36 & Aktis Moutsopoulou, 185 35 Piraeus
5′ from the "Dimotiko Theatro" metro station
Visiting Hours
Monday-Friday 09.00 – 17.00
Free Admission
The building remains closed on public holidays.
Exhibitions: Monday-Friday 10.00 – 16.00
Access
For access to the material of the Historical Library, it is necessary to complete an electronic application.
For organized tours, please contact us by phone or email.
The space is not fully accessible to disabled people.